Black Wings Has My Angel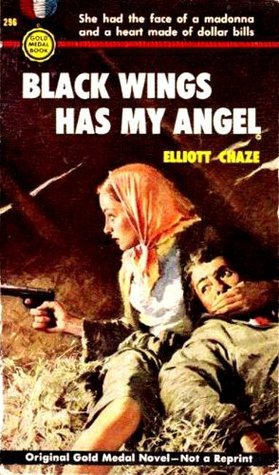 What a title and what a book. If you've never heard of Elliott Chaze you are not alone. But if you have a soft spot for noir a la James M. Cain then Black Wings Has My Angel is for you. And then some. Because this novel positively sings with elegant prose on top of being a classic hardboiled crime story. As evidenced by BWHMA Elliott Chaze could write, reaching literary highs while simultaneously providing the cheap thrills that anchor the book firmly in the crime genre. Published in 1953, this tale of two scummy characters who truly deserve each other, as they plot to rob an armored car and live the easy life while simultaneously betraying one other, takes the reader deep into a psychological suspense where the prospect of jumping down a mine shaft makes sense.
"The ultimate in horror is, for some unworldly reason, attractive. Hypnotic."
The protagonist, an escaped convict who goes by different names, remains unbelievably sympathetic even as he murders and plots his way to an ill-gotten wealth he soon detests, while at the same time toying with pushing his sweetheart and partner in crime down that mine shaft. The reader identifies because, in his heart, Tim, or Kenneth—or whoever he is—ultimately speaks the truth about himself and the world at large.
"Most of living is waiting to live. And you spend a great deal of time worrying about things that don't matter and about people that don't matter and all this is clear to you when you know the very day you're going to die."

Virginia, the fallen angel he teams up with, is his fated equal. The dialog between them crackles with originality, giving us characters who stretch far beyond their genre 'types' and become human beings we care about, even though they care about no one else—except, perhaps, each other. Tim isn't just a psychopathic criminal but an ad hoc philosopher who knows a fake when he sees it. Virginia is not simply the femme fatale from central casting, but a woman with a mind and will of her own—and a sense of humor to go with it.
"A gentleman is a door mat with all the scratch gone from it," Virginia snapped. "Look 'em over sometimes. They even wear the kind of clothes that fit being a door mat: fuzzy."

Not bad for 1953. The descent this pair makes has the reader envying their passionate ride as much as he or she fears having anything to do with anything like it. A must read.
---
---
---
---
---
---
---
---
---